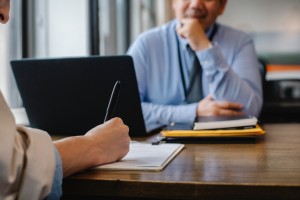 So, you have decided to take control of your financial future and apply for a personal loan…great! We have been helping individuals and families make ends meet since 1974 and offer a simple application that makes getting a loan easier than ever before.
Now, the next step is to gather everything you need for your application to expedite the process as much as possible. Here is your answer to "What do you need to apply for a personal loan?" to help you be ready and prepared for what's next.
Select Your Local Loan Office
Service Loan South has branch locations all throughout the southern region of the U.S., so chances are that we have an office near where you live. On our website, select the location nearest you to get started with your application. Complete the field boxes in the application as you work through the steps. However, your application is just the first part of what you need to apply for a personal loan.
Personal Identification Documents
To support your application, you will likely need to present proof of your identity. Have at least two of these documents available to present: driver's license, passport, social security card, birth certificate, state-issued ID, or military ID.
Proof of Address
You also need a document to prove your current residence, such as a utility bill, rental agreement, mortgage statement, or property tax receipt. A voter registration card or credit card statement can also serve as proof of your address.
Income and Employment Information
In your loan application, you will be asked for your employer's name, contact information, length of time you have worked there, position, pay period, and net pay per check. To support this information, you can provide pay stubs, tax returns, bank statements, W2s, or 1099s.
While completing your application, you may need to refer to your own financial documentation to input monetary amounts for alimony, child support, disability benefits, rental income, or other types of income you receive. This information helps the lender trust that you will be able to make regular monthly payments on your loan and that you are not a financial risk. Also, have information about your debts and creditors handy so that you can include this information in your application. These details help a lender assess your debt-to-income ratio to determine if you are a good candidate for a loan.
Apply Online, by Phone, or in Person
At Service Loan South, we offer you three ways to apply for a loan: online, by phone, and in person. We'll begin processing your application immediately upon receipt and let you know if you have been approved. After you submit the required documents discussed here, we will begin transferring the loan money via direct deposit to your account.
You can use our personal loans for any reason you choose, giving you ultimate flexibility in how and where you spend your money. Contact us at 833-745-2710 or your local loan branch with any other questions about the documents you need to apply!